Get to where you need to go
          We believe in clean air and a healthy environment, and that's why all of our 50 fleet cars are Toyota® Prius™ Hybrids. greencab has consistently recruited the most experienced drivers in the industry. We conduct scheduled vehicle inspections and driver training programs to ensure that each passenger travels safely and securely when using our service. GO GREEN!!! GO
Fastest, safest, and most reliable taxi service in city of seattle and King County 24-hour service, 365 days a year we never close! Friendly, well-trained drivers who know their way around Clean and green eco-friendly vehicles for a pleasant ride Computer Dispatched 24-Hour Package Delivery Service Time calls       Call to Action
         Get to where you need to go without a footprint. Green Cab Taxi and Disabled Services 
Association LLC of king county and Seattle city in Washington,
 is an environmentally friendly taxi cab service dedicated to getting you to where you need to be.
We believe in clean air and a healthy environment, and that's why all of our  fleet cars are Toyota® Prius™ Hybrids.
The first meter drop is $2.60 and additional miles are just $2.70.
Green Cab Taxi and Disabled Services Association LLC is an owner-operated business, which means our founder works
directly in the company to ensure our high standards are upheld.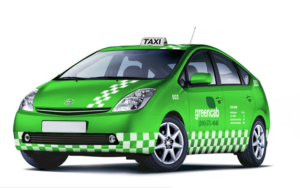 To reduce carbon emissions, our green cab taxi fleet is fully hybrid. Eco Cabs provide a clean and green transport service for the king county. Our taxi service is very efficient and affordable. You will be surprised at how quickly we can get you there - Go green!
Our fleet is made up entirely of environmentally-friendly hybrid cars, which on a combination of electricity and petrol. Significantly reduced emissions means reduced fuel costs for us. Fast and friendly taxi service in the king county. Our drivers are owner operators.